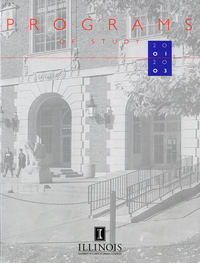 This catalog provides general information about the University of Illinois at Urbana-Champaign and detailed information about the undergraduate programs of study offered by eight undergraduate colleges, the School of Social Work, the Institute of Aviation, and the College of Veterinary Medicine, as well as information on graduate education offered at the University.
Separate catalogs are published for the College of Law at Urbana-Champaign and for the University of Illinois at Chicago.
There is also a separate Courses catalog, which gives information about all courses-both undergraduate and graduate-that are currently available at the University as possible offerings.